Molecular and Cellular Biology tutors in Gauteng
Personalized Tutoring
Molecular and Cellular Biology lessons for online or at home learning in Gauteng
Molecular and Cellular Biology tutors in Gauteng near you
Phuluso M
Sunnyside, Pretoria
As a Genetics major at the University of Pretoria, this has been my subject of study for almost five years now. I have both enjoyed and excelled in it with more than three years of tutoring experience. I can assure you a high standard of teaching from a biology veteran. For Varsity students, I can tutor only up to first year. (MLB 111 for Tuks students)
Teaches: Study Skills, Molecular and Cellular Biology, English Language, Primary School, Natural Sciences, Physical Science, Chemistry, Biology, Calculus, Pure Maths, Math, English, Writing, English Literature
Available for Molecular and Cellular Biology lessons in Gauteng
Miguel C
Waterkloof Ridge
Daventha G
Brakfontein 399-Jr
Rykie J
City of Tshwane Metropolitan Municipality
Rachel G
Muckleneuk, Pretoria
I am a 20 year old female student studying medicine (MBChB) at the University of Pretoria. I received a 91% average for my NSC 2015 Matric exams. I love tutoring others and am very friendly. I am very good at engaging my students and always find the best method of teaching to suit their individual needs. I am also very committed. I have my own transport and a valid driver's license.
Teaches: Molecular and Cellular Biology, French, Study Skills, English Language, History, Primary School, Physics, Afrikaans, Biology, Mathematics
Available for Molecular and Cellular Biology lessons in Gauteng
Tadiwanashe D
Vorna Valley
Tadiwanashe D
Vorna Valley, Midrand
I am an enthusiastic, vibrant and well-rounded 24 year old lady and I have just completed my Masters in Environmental Science. My passion rests in the environment and its interactions with humans. I also have work experience in the environmental field. I love the outdoors, reading, sports and fitness, music and dancing. I am a kind-hearted natural leader who prides herself in helping others by encouraging them while the learn in fields that I have knowledge in. I enjoy seeing people excel and achieve their goals.
Teaches: Study Skills, Dance, Ecology and Environmental Biology, Physical Geography, Anthropology, Environmental Science, Natural Sciences, Biology, Human Geography, Human Biology, Molecular and Cellular Biology, English skills, Geography, Mentoring, English Literature, English Language, English Language and Literature, Primary School
Available for Molecular and Cellular Biology lessons in Gauteng
Nelia Phuti M
Parktown, Johannesburg
I am a very friendly, enthusiastic, ambitious and career driven lady.I live and breath science,graduated with a BSc biological science in 2015, BHSc molecular medicine and haematology in 2016 and currently persueing MSc Medicine at the university of the Witwatersrand.
Teaches: Microbiology, Biology, Molecular and Cellular Biology, Biochemistry, Numeracy, Mathematics
Available for Molecular and Cellular Biology lessons in Gauteng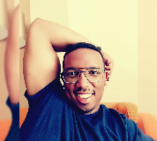 Brian K
Melville, Johannesburg
Teaches: Chemistry, Biology, Physical Science, Human Biology, Molecular and Cellular Biology, Mathematics
Available for Molecular and Cellular Biology lessons in Gauteng
Other subjects offered in Gauteng
Find Molecular and Cellular Biology tutors near Gauteng