Music Theory tutors in South Africa
Personalized Tutoring
Music Theory lessons for online or at home learning in South Africa
Music Theory tutors in South Africa near you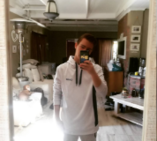 Caleb-John W
Uitenhage Upper Central
Currently a PhD student, I am in the final stages of completing my studies, while lecturing select courses at Wits University. Once finished, I hope to continue with a career in academia. I am originally from Johannesburg and have spent much of my time here, aside from a period of studies in London. I enjoy travel, literature, and the arts.
Teaches: Music Theory, Mathematics, Afrikaans, English skills, English Language and Literature, Linguistics, Philosophy, General Maths & Science
Available for Music Theory lessons in South Africa
Morkel C
Rietondale, Pretoria
I have been involved in music for 40 years and have started string orchestras and youth orchestras all over Gauteng, including the traditional townships. I am a member of the gauteng Philharmonic Orchestra and was tutti extra for the JPO for 9 years before they stopped operating. I lead the Viola section of Pro Musica for 6 years. I was member of PACOFS Symphony, Operette and Opera orchestras during my student years and led the violas in the musicals I play viola and violin professionally and perform on both instruments regularly in chamber music concerts all over Gauteng and Mpumalanga.
Teaches: Economics, Music Theory, Violin, Geography, Chemistry, Biology, Natural Sciences, Business Management, International Business, Music Performance, Agriculture, Horticulture, General Maths & Science
Available for Music Theory lessons in South Africa
Tarien V
Kempton Park, Kempton Park
Please contact in order to schedule times Love teaching languages (english and afrikaans), music (theory and practical vocal or piano), hospitality studies and will be able to help in math literacy . Graduated Matric at the Afrikaanse Hoer Meisieskool Pretoria in 2015
Teaches: Music, Music Theory, Afrikaans, English Literature, English Language, Volunteer tutoring, Primary School, Drama, Music Performance, Home Economics, Journalism and writing
Available for Music Theory lessons in South Africa
Andie R
Oranjezicht, Cape Town
I am a friendly and intelligent 25 year old female currently studying Early Years Montessori Teaching. I am really passionate about education and am particularly interested in helping students with their Music (theory and piano practical), English, History and/or Drama studies. I am very creative with particular interest in sewing, painting, reading, drama, dance and music. I have worked in the fashion industry (as a fashion designer, blogger, stylist and visual merchandiser), broadcasting (hosting 2 radio shows over 3 years) and most recently have been working at a Montessori pre-school as an assistant teacher.
Teaches: Music, Music Theory, Piano, English skills, English Language, English Language and Literature, Primary School, Drama, Home Economics, Photography, Textiles and Fashion Design
Available for Music Theory lessons in South Africa
Matthew S
Glen Dayson A.H
Find Music Theory tutors near South Africa