French tutors in Centurion
Personalized Tutoring Near You
French lessons for online or at home learning in Centurion
French tutors in Centurion near you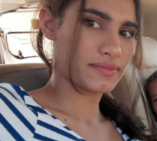 michelle o
Pierre van Ryneveld
Claudi B
Zwartkop, Centurion
I am currently studying Educational Psychology and it would be great to gather as much teaching experience as possible. I aim to teach through interesting and fun ways that will suite the learner's study methods. I also want to improve study methods by introducing various alternative learning ways to learners.
Teaches: Art and Design, French, Special Needs Help, Psychology, English skills, English Language, Numeracy, English Language and Literature, Primary School, Afrikaans
Available for French lessons in Centurion
Ulrich Kyungu M
Lyttelton Manor
Ulrich Kyungu M
Lyttelton Manor, Centurion
As a PhD candidate in Agriculture, with a strong background in science subjects, life sciences and research, tutoring and teaching experience, I am able to improve any student having difficulties in mathematics, physics, life sciences, research methodology, Bio-statistics, Dissertation writing...
Teaches: Pure Maths, Natural Sciences, French
Available for French lessons in Centurion
Shannon d
Irene Security Estate
Find French tutors near Centurion