Our Service to You
Turtlejar connects you to the highest performing local Eversdal tutors to help you achieve your desired goals while eliminating any signs of fear in your subject. All levels covered including Primary, High, University and Languages.
In-Person & Online Lessons
Our tutors travel to you and teach in the comfort of your home. We also provide tutors for online sessions.
Hands On Eversdal Tutor Services
Guaranteed happiness with your first tutoring lesson. Not happy? We arrange a new tutor with your first lesson on us!
Our private tutors in Eversdal near you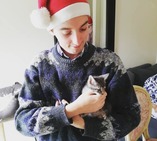 Michael B
Eversdal, Cape Town
Hey! I'm a 3rd Year Engineering student who is very adept at Mathematics, as well as having, at least, a matriculate level knowledge of science. My tutoring experience ranges from 1 on 1 sessions to teaching entire classes, and I am confident in my ability. From lesson plans to homemade worksheets I can prove to be a very effective tutor for you. Thank you for considering me!
Teaches: General Maths & Science, Mathematics Literacy, Pure Maths, Mathematics, Calculus, Algebra, Linear Algebra, Trigonometry, Statistics, Math
Available for lessons in Eversdal
Francisco D
Eversdal, Cape Town
Hi, I am currently finishing my Masters degree in Molecular and Cell Biology at the University of Cape Town. I have a passion for biology and maths and love to pass down my knowledge on these subjects. Originally from Portugal, I can teach in English, French and Portuguese.
Teaches: Portuguese, Microbiology, Molecular and Cellular Biology, Biochemistry, French, Biology, Mathematics
Available for lessons in Eversdal
100% Tutor Match Guarantee or Money Back
At Turtlejar Tutoring, we're committed to connecting you to the best possible Eversdal tutor that will allow you to achieve your desired short and long term goals.
Subjects offered in Eversdal
Tutors nearby or in Eversdal