Portuguese tutors near me
Personalized Tutoring
Portuguese lessons for online or at home learning in South Africa
Portuguese tutors in South Africa near you
Francisco D
Eversdal, Cape Town
Hi, I am currently finishing my Masters degree in Molecular and Cell Biology at the University of Cape Town. I have a passion for biology and maths and love to pass down my knowledge on these subjects. Originally from Portugal, I can teach in English, French and Portuguese.
Teaches: Portuguese, Microbiology, Molecular and Cellular Biology, Biochemistry, French, Biology, Mathematics
Available for Portuguese lessons in South Africa
Maria Camila M
Bedfordview
Michael H
Fontainebleau, Randburg
Teaches: History of Art, Fine Art, Portuguese, Physical Geography, Human Geography, Sport and Physical Education, Geography, Religious Studies, Art and Design, Numeracy, English skills, Art, Computing and ICT, Study Skills, English Language, Mathematics, Natural Sciences, Biology
Available for Portuguese lessons in South Africa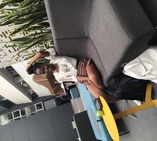 Bosola M
Hatfield, Pretoria
I am the best candidate because I took Portuguese in university as well as practiced it at home for further consolidation-especially because I mother is Mozambican. During the time I took Portuguese I aced it and ended the year with an 80% despite it not being my home language. This is indicative of my dedication to learning and grasping of the language hence I will gladly be able assist.
Teaches: Sports & Hobbies, Environmental Science, Natural Sciences, Geography, Mathematics Literacy, Linear Algebra, Portuguese, Zulu, Grammar, Reading, Writing, English skills
Available for Portuguese lessons in South Africa