Media Studies tutors near me
Personalized Tutoring
Media Studies lessons for online or at home learning in South Africa
Media Studies tutors in South Africa near you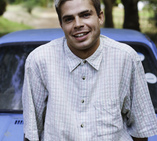 Bilqis R
Rondebosch East, Cape Town
Teaches: History, History of Art, Afrikaans, Media Studies, English Language and Literature
Available for Media Studies lessons in South Africa
Kim D
Zonnebloem, Cape Town
I enjoy reading, blogging, horse-riding and teaching. I am passionate about history and biology as well as English writing and literature. I like to teach students about these passions in the hopes that it too will inspire them. Being excited about a subject is the first step to success.
Teaches: Business Management, Biology, Study Skills, Natural Sciences, History, English Language and Literature, English skills, Journalism and writing, Media Studies
Available for Media Studies lessons in South Africa
I am a registered Research Psychologist with HPCSA currently finishing off my PhD. I have moved back to Durban (Glenwood and Morningside area) from Grahamstown and looking to tutor a few students a week. I am a relatively easy going individual who gets on with many people and children. I have taught people of varying ages and ability and have extensive knowledge in different pedagogical approaches (i.e. teaching practices and methods). I enjoy mountain biking, playing squash (played for Rhodes University), running and ultimately being outdoors and having fun. Please contact me if you have any further queries.
Teaches: Human Resources, Statistics, Psychology, Classics, Human Geography, Sociology, Religious Studies, English Language, Numeracy, Anthropology, Criminology, Verbal Reasoning, Media Studies
Available for Media Studies lessons in South Africa
Jocelyn T
Plumstead, Cape Town
I am a 25 year old female residing in the Southern Suburbs in Cape Town. I hold an Honour's degree in Psychology and I am a Registered Psychometrist. I hope to become a Counseling Psychologist specializing in the area of children and development. I place high value on education and thoroughly enjoy assisting others to learn. As well as Psychology, I love the English language. I am passionate, enthusiastic, energetic and reliable.
Teaches: Statistics, Study Skills, Verbal Reasoning, Psychology, English Literature, English Language, Media Studies, English skills
Available for Media Studies lessons in South Africa
Renko W
Ravensmead, Cape Town
Teaches: Afrikaans, Linguistics, English Literature, Study Skills, English Language, Media Studies
Available for Media Studies lessons in South Africa
Other subjects offered in South Africa
Find Media Studies tutors near South Africa