Medicine tutors in Western Cape
Personalized Tutoring
Medicine lessons for online or at home learning in Western Cape
Medicine tutors in Western Cape near you
Eran S
Kenilworth, Cape Town
I am a dedicated tutor who is vitally committed to the success of my students. I am willing to go the extra mile to ensure their academic and personal achievement, even if that means personal phone calls and messages. I am a friendly guy who enjoys the teaching process, and am willing to help with managing exam stress and providing emotional support.
Teaches: Medicine, Biochemistry, Microbiology, Human Biology, Physiology, Chemistry, History, Physics, Biology, Mathematics
Available for Medicine lessons in Western Cape
Joleen L
Claremont, Cape Town
I am a fourth year medical student at the University of Cape Town. I enjoy helping others and assisting them in achieving their best. I have previous tutor experience and am willing to go the extra mile for my students.
Teaches: History, Xhosa, Molecular and Cellular Biology, Medicine, Human Biology, Physiology, Natural Sciences, Chemistry, English Language and Literature, Primary School, Afrikaans, English Language, Mathematics
Available for Medicine lessons in Western Cape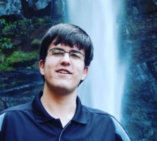 Other subjects offered in Western Cape
Find Medicine tutors near Western Cape